vaping excise stamp licence
Giolong Innovations now has a excise stamp licence for vaping products under the Excise Act, 2001, in Anjou, Montreal. This means that we can now place the vaping excise stamp on e-cigarettes.
This licence means we can better support our clients in the tobacco and ecigarette sector and can help them apply this new regulation, which came into force on January 1, 2023.

If you're an ecigarette reseller or wish to become one, we can support you in this process, in its compliance.
What is required under the Act?
The Excise Act, 2001, is a federal statute that taxes certain products, including vaping products. To sell vaping products in Canada, manufacturers, distributors and retailers must obtain a vaping product licence under this Act.
The vaping product licence is a legal requirement to ensure that companies comply with product safety and taxation regulations. It was issued to us by Canada Revenue Agency (CRA) and must be renewed annually.
What's a vaping excise stamp?
Vaping excise stamps are special tax labels that are affixed to vaping products in Canada to indicate that excise tax has been paid on those products. Manufacturers, distributors and importers of vaping products must purchase these stamps and affix them to their products before selling them in Canada. Vaping excise stamps help tax authorities track vaping products through the supply chain and ensure that excise tax has been paid on every product sold.
The stamp has visible features as well as hidden security features. This is what a vaping excise stamp looks like.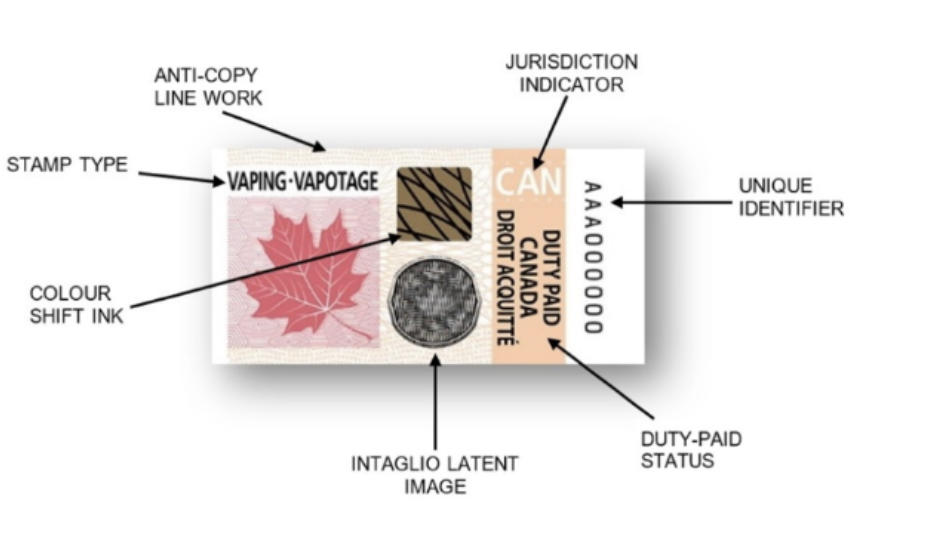 Vaping excise stamps are intended for manufacturers, distributors and importers of vaping products. We take care of the entire process, from purchasing the stamp to affixing it to ecigarettes and their accessories, like eliquid.
Vaping product manufacturers and distributors must have vaping excise stamps for each product unit they create, sell or distribute. Our licence permits us to assist all vaping professionals in this process.
Note that individuals who buy vaping products for their own use are not required to buy vaping excise stamps. However, businesses that sell vaping products must ensure that the products they sell have valid vaping excise stamps for every unit sold or distributed in Canada.
Always on the lookout for new challenges to satisfy our clients
We're very proud to add a new service to our offering. Giolong International wished to obtain this licence so it could better support manufacturers and resellers of ecigarettes and eliquid in Quebec and Canada—a sector it already supports for various supply processes. The traceability afforded by these stamps is essential for consumers and retailers alike in the fight against counterfeit and contraband products.
If you need vaping excise stamps to sell ecigarettes in Quebec and Canada or if you wish to import products, contact us today. Our team of specialists can provide support throughout the process.
Let's discuss your project